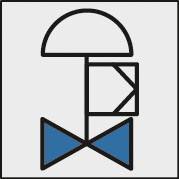 VETEC rotary plug valves are characterized by high flow capacities and excellent control quality with extremely high resolution. Typically, the Kvs/Cv values are two to three times higher than those of classic globe valves. The rangeability of 200:1 significantly outperforms the globe valve and is also superior to other comparable products.
VETEC rotary plug valves can be operated with pneumatic, electric, as well as hydraulic rotary actuators and can be equipped with various accessories such as positioners, solenoid valves, limit switches and others according to DIN EN 60534-6, VDI/VDE 3845 or NAMUR recommendation.
Double eccentric design according to VDI/VDE 3844
The bearing of the shaft in connection with the trim is eccentrically arranged. The double eccentric geometry of the rotary plug valve is realized together with the offset of the plug's center of rotation. This double-eccentric bearing arrangement causes the plug to lift smoothly and immediately from the seat when the shaft rotates from the closed position in the opening direction. The valve does not open jerkily and therefore shows a stable control behavior even at small opening angles.