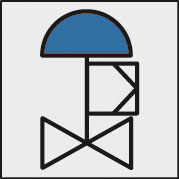 Our pneumatic diaphragm actuators are available in various designs. What they all have in common is their high running performance and long service life.
The design of the actuators enables very fine and precise control.
Due to the combination of several spring assemblies or reinforced springs and the mounted piston rod (actuator spindle), even the transmission of high torques is no problem.A quick-acting function is optionally available for all versions. All actuators are suitable for hazardous areas.
Design features
Robust and compact
Variable number of springs
Optimized spring ranges
Display of the setting range
Mounting of additional devices according to VDI VDE 3845-1 or VDI VDE 3847-2
Attachment according to DIN EN ISO 5211 (AT, BR31a, R, S)
Signal pressure connection according to EN 15714-3 and VDI/VDE 3845-1
Modular design - optionally with manual override, accessories and mechanical end stop screws
Reversible rotary action without additional components
Modells
Control and on/off

60 up to 10000

—

Single acting (SC/SO); encapsulated spring assemblies
Double acting (DL); without spring assemblies
Rotary
Counterclockwise rotation for Types 72, 73, 82 (closing counterclockwise)
Clockwise for Type 62 (clockwise closing)

0 to 75° for Types 72, 73, 82
0 up to 90° for Type 62
Pneumatic
3 up to 6 bar
—
13 up to 2207 Nm
–40 up to +80 °C
–55 up to +80 °C (Low temperature version)
Manual gear
Control and on/off

60 up to 10000: Edition 2010
60 up to 1200: Edition 2020+
—

Single acting (SRP); encapsulated spring assemblies
Double acting (DAP), without spring assemblies
Rotary
Counterclockwise rotation for Types 72, 73, 82 (closing counterclockwise)
Clockwise for Type 62 (clockwise closing)

0 up to 75° for Types 72, 73, 82
0 up to 90° for Type 62
Pneumatic
3 up to 6 bar
—
13 up to 2207 Nm
–40 up to +80 °C
–55 up to + 80 °C (Low temperature version)
Manual gear